Welcome to To Korali!
[ To Potential Visitors |Visitors comments| Availability | Getting There | Get in Touch! | Slideshow of Images |back to thirteenthmoon]
Letting in 2009/2010

We are still on the lookout for some caring people to live in To Korali from January to April 2009 – preferably for the whole period, but shorter might be available. October to April 2010 will also be available, due to the fact that Cora at 60 has decided to 'go back to school' to do an MA in Creative Writing at Manchester MMU. The sacrifice of glorious early sunshine, warm autumn seas and empty beaches in Crete shows exceptional commitment, we feel! To say nothing of ripening vines and winter oranges and grapefruit picked from your own trees, the olive harvest, bright winter skies, and long nights by big log fires roasting fresh chestnuts… I could go on! All this could be waiting for you or someone you know who can free themselves for a winter with a difference. Spring starts early here, with wild anemones carpeting wild places from January, orchids and an abundance of other flowers from February onwards. There will be some rain during late Autumn, Jan and Feb but also mostly sunny days.
The house has telephone, broadband, a good music system and DVD, television (no satellite, but that too could be installed).
We have the house up for rent with our agent in Crete, so if you want to express and interest do so fast! (Doesn't have to be a commitment at this stage, but the sooner we know you may be interested, the better).
The list price here is E500pm. For a direct let to someone trustworthy who we know will look after things well, do some gardening and any necessary maintenance, love the cat and the character of our home, we would be open to discussing a lower rent. We would also release a tenant from rent in December if they wish to return home for Christmas/New Year.
Please have a look at the pictures and information on this site, and contact us asap if you know anyone interested. Many thanks!
Cora and Ian
cora@thirteenthmoon.co.uk
www.thirteenthmoon.co.uk/tokorali

Visitors' feedback

'Great to have whole kitchen with sharp knives, coffee machine' Lisa (now even a steamer by request!)
'Fab book/music collection.' Lisa
'Thick stone walls – secure, cool, strong, relaxing. Spacious interior and exterior.' Ruth
'View from terrace of mountains in snow in May!' Ruth
'Love the layout and decoration of the bedroom…and views of mountains in the mornings!' Margaret
'I found my place in the hammock!' Helen
'Tranquil hideaway!' Peter
'Love the labyrinth. And the hammock and swing seat!' Margaret
'The air-conditioning, DVDs and comfortable bed has made it easier to feel like home!' Bridie
'I feel I've personally grown those pendulous aubergines!' Margaret
'Private retreat – no one to see or hear us – deeply relaxing and healing space.' Lisa
'The pomegranates have taken on a rosehip sheen in the evening sun.' Peter
'Excellent book collection has kept me occupied during long days on the beach!'
Ruth (no 2)
To Potential Visitors
from Cora and Ian
A few years ago we became the somewhat bemused and rather awed owners of a coral pink house which we called To Korali for its colour and its resemblance to our names! To Korali is a restored old farmhouse on the edge of the ancient village of Aspro in Apokoronou, near Hania in NW Crete.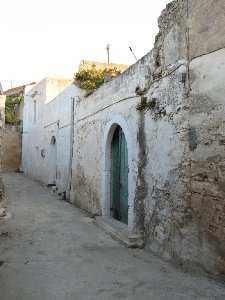 Lovingly restored by a Greek artist, it has the space and privacy that make it ideal for writers and artists' retreats, as well as being fabulously placed for family holidays.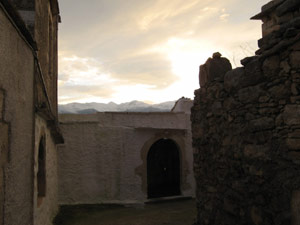 Downstairs is spacious and open plan, with a wide stone arch connecting two rooms giving onto the kitchen at the back. There is a big open fireplace with traditional built in beds/seats beside it at one end, and we've installed a modern woodburning stove at the other to make the house extra warm in winter. There is also a downstairs bathroom with washing machine. We have solar heating for water, with electrical backup for winter. There are high wooden ceilings, and a fully fitted kitchen. TV, video, DVD and stereo all installed. There are several shelves of books you're welcome to browse, and there is a telephone.
Upstairs is the big, light bedroom with two windows looking towards the White Mountains, and a French door looking towards the sea. From your pillow you can wake to views of the peaks of the White Mountains, which are snow covered for about half the year. There is also a modern bathroom and a huge south facing sun terrace facing the garden and mountains: also a perfect place at night for stargazing! ( telescope is provided too!) We now have a futon base and comfy double mattress that are great for sleeping under the stars on the upper terrace.
Outside at the back is a large stone terrace, partially covered with a pergola and surrounded by almond, carob and cypress trees as well as flowers all the year round. Beyond is a long garden cum orchard (citrus fruit, apricots, plums, figs etc ) cum olive grove, all private and with stunning views. There is plenty space for tents and hammocks.
The village of Aspro is small but full of interesting architecture dating from Turkish rule, some restored and some still in ruins. The surrounding hills are forested mainly with cypress, rising from a river valley that falls away to the west of the house. There are now some modern housing developments in the area, but the centre of the village is under a preservation order. 15 minutes walk away is the small resort of Almyrida, with beautiful safe sandy beaches, cafes, bars and tavernas, shops internet cafe and hotels. Sailing, windsurfing, and canoeing are available, as well as car and bike hire. We have mountain bikes, a windsurf board, body board and wetsuits.
The old Venetian harbour town of Hania is half an hour by road, and is Crete's second city and cultural centre, with its famously beautiful Venetian harbour. Hania Airport is 40 mins drive from the house, and Heraklion about 2 hours. And all around there is West Crete to discover – mountains, coastline, ancient sites, villages, churches, caves, gorges etc.while the main Minoan sites Knossos, Phaestos and many more are a couple of hours glorious driving across the island to the East.

To Korali is a home, not an investment property. We like friends (or friends of friends) to stay when we aren't here, in return for contributions towards the upkeep and development of the property. This contribution is well below a commercial rent - about the same as the cost of a basic one roomed studio around here - in part exchange for some help in watering plants and feeding the cat! Some people may choose to do more garden maintenance and pay even less. The amount will vary according to season as well, and according to how long you stay and how many people. Just talk to us and we'll work it out.
Most times of the year, there should be something to eat in the garden. It could be figs, tomatoes, vegetables, herbs, pomegranates, plums, apples, almonds or oranges and grapefruit. The lemon tree seems inexhaustible!
So far we've had friends here in May, June, July,August and December and they've loved it. We have a folder of maps and local information that is growing all the time, including guides to local walks. Our German neighbour Gaby keeps an eye on the place in our absence and will make sure it is clean and welcoming as well as giving any lowdown you may need.
We can provide towels, bedding for the double bed, some extra foam mattresses, pillows, and a airbeds. This will change over time: if there's anything you want, check us out.
Bring your own beach towels but you can borrow our beach kit like mats, masks and snorkels, and a beach tent. Also cagouls, umbrellas, for showers off-season.
Availability
Our pattern of being here may change from year to year, so if you want to book ahead, let us know your options in advance and we may take them into account..
Get in touch to find out our plans for this year.
Getting there
Direct charter flights and Easyjet currently start in April and end at the end of October. At other times (or if you fancy a day or so in Athens) you can fly to Crete via Athens with Aegean, Easyjet or Olympic Airways etc. And if you're on an overland journey, there are ferries from Athens and the Peloponnese. Some friends came by train and boat last year via Venice. We're happy to give advice from our lengthy experience!

Get in touch!
Give us a ring or drop us a line with any enquiries, even if you don't have a specific time in mind yet.
email cora@thirteenthmoon.co.uk will reach us in either location.
With warmth – lots of it! Cora and Ian